2019-20 is a year that Richmond Fellowship of Hong Kong (RFHK) faces many challenges, but it is also a fruitful year. During the year, the social turmoil in Hong Kong brought emotional disturbance and relationship laceration among all citizens. To some extent, it also affected our service users and staff and had considerable impact on our services. In mid 2019, the government created hundreds of new assistant social worker officer (ASWO) posts and some supervisory-related positions, which enhanced the turnover of social workers with promotion potential. Like other social service organizations, RFHK was also faced with staff turnover and promotions, and brought a short-term staff shortage in some individual service units. The subsequent outbreak of the new coronavirus disease then swept the world. Since January 2020, tens of millions of people have been infected and caused severe economic losses in many countries. The fluctuation of epidemic situation in Hong Kong not only created some urgent needs for social services, but also greatly changed the mode of service delivery and brought everyone a "new normal." For the situation, we adjusted the service arrangements to meet the primary goal of epidemic prevention, and at the same time, we took active measures to respond to new social needs.
Despite facing various environmental challenges, the new service concept and methodology of "Recovering Citizenship", which has been planning together with Yale University over the years and some staff members have been sent for recovery and community health training program at Yale University since January 2020, is officially launched. Originally scheduled to be held in Hong Kong in December 2020, the 14th Richmond Fellowship Asia-Pacific Conference was also postponed for one year due to the epidemic situation. And in response to the demand for services, this year we successfully applied for funding to continuje Justone, our 24-hour support service, and developed new resources for some new innovative projects.
Stable services amidst social turmoil
The social unrest in Hong Kong started in June 2019. Many of the conflicts in the community and the disagreement among citizens caused serious interpersonal laceration. Although there could be different opinions among service users and employees, we have always adopted the core value of providing quality services, focusing on assisting the public and manpower support services, which have won the support and recognition of different stakeholders. During this period, our Justone hotline service has increased its publicity and strengthened supports to respond to the emotional distress of the citizens, and the service in the community has never been interrupted. At the same time, we adopted flexi-hours measures for the colleagues who live in the affected areas or commuting routes. And we have also mobilized the service schedule of some units so that service users can still receive services from the unit and go home under safe conditions. Moreover, in response to the possible emotional impact of the colleagues, we have launched a daily "Happy Zone" refreshment time to allow them to have a short gathering to support each other and express their emotions. We have also arranged clinical psychologists to provide emotional relief training for our colleagues and provide counselling service for the workers in need. Although the scenes of social conflict were close to some of our service units and affect their daily life, all stakeholders could remain calm and peaceful with usual services delivery, and it is all relied on the joint efforts of the colleagues with their professionalism and the persistence on sticking to the posts.
Optimize work teams in the flow of officials
In mid-2019, the government added more than 400 posts of Assistant Social Worker Officer and Service Supervisor which create opportunities for advancement in the field. A comparison of the supply and demand of social workers in this year revealed there was a shortage of 500 social workers. During this period, some of our colleagues were able to find promotion opportunities, which caused us some short-term vacancies that could not be filled immediately. In view of this, we have adopted different human resources measures to effectively consolidate the work team. Under the guidance of the Human Resources Sub-committee, we have optimized the recruitment process in order to shorten the processing time, and successfully recruited many talented personnel. By the first quarter of 2020, most of the vacancies have been replenished; and different measures have been implemented to help retain the talents and hence substantially reduced the turnover to a level comparable to the average turnover rate of all non-governmental organizations in Hong Kong. And all the teams in our service units are organic and well-functioned. These measures include increasing the maternity leave for married female colleagues to 14 weeks, increasing the number of annual holidays according to the needs of certain positions, substantially increasing the annual self-initiated staff development allowance to 2,500.00 per person, increasing the amount of employee medical protection coverage, upgrading outstanding services awards, providing extendable salary ladders and study holidays for frontline social workers, increasing promotion ladders and opportunities for frontline support staff according to service needs, using job rotation to allow staff at all levels to have internship for exposure to promotion opportunities, and granting a one-time hard work subsidy to all colleagues to boost colleagues' morale. In mid-2020, RFHK promoted a campaign on appreciative culture appreciation and gratitude among staff, which was welcome by staff at all levels and helped to enhance a sense of belonging to RFHK. In addition, management staff repeatedly visited different service units to communicate with front-line staff during the outbreak has greatly shortened the distance between management and frontline, as well as strengthened the positive factors in teamwork.
Service transformation during the epidemic
In January 2020, the coronavirus disease began to break out in Hong Kong as the prelude to the global pandemic. Many service activities have been cancelled or postponed due to the worsening of the epidemic situation and the repeated fluctuations. Some traditional large-scale events, such as seasonal celebrations at residential service, unit open days, and annual dinner, have been compelled to be cancelled. The 14th Richmond Fellowship Asia-Pacific Conference, which originally was scheduled to be held in Hong Kong in December 2020, has also been postponed for one year.
On one hand, we need to maintain the normal operation of the service units according to funding and service agreements; on the other hand, we need to take initiatives to protect our employees, service users and family members from infection. Under the new situation, we need to find ways that refrain from individual personal contacts, while enabling to continue delivering our services continuously. In the face of unclear upcoming situation and drastic changes, the management staff set up a crisis management team to review the latest epidemic situation in a periodical manner, consult various units regarding the actual situation, make real-time scheduling, and provide fast and effective information and announcements to all employees so that we can cope up with the epidemic in an easier way. These measures include the timely purchase and provision of adequate epidemic prevention supplies to all units; strict epidemic prevention arrangements at all units; flexible opening, closing and meal hours; work from home arrangements; and guidelines for infection declaration, etc. The infection declaration guideline is jointly compiled through consultation with employees at all levels and taking reference to professional opinions from government agencies. The guideline is considered a culmination of teamwork and concerted efforts of RFHK colleagues during the adverse period.
Thanks to the creativity and hard work from the colleagues of the community service. In the early stage of the epidemic, we have quickly adopted telephone care, online interviews, online group support, online meetings, SMS notifications, distribution and mailing of epidemic prevention supplies to support service users and their families, and to waive the activity fees. As some service users are not familiar with online technology and even in lack of communication equipment to participate in online activities, therefore, we used the anti-epidemic fund provided by the Jockey Club Charity Trust to purchase a batch of smart phones for those in need, and to provide training on using the equipment, which greatly changed their communication habits. Furthermore, our colleagues carried out various activities such as online interest classes, mindfulness training, and music groups; and also created many refreshing electronic stickers and short films about the Enneagram. After the epidemic, we believe that online support will become one of the methods for our services as another "new normal".
In addition to the new direction of online support, community services have also increased the service sensitivity. During this period, with an aim to have early identification of hidden cases, they took the initiative to provide free mental health assessments in the district so that assistance could be provided accordingly. These arrangements are generally welcome by partnering organizations and the residents.
We are also grateful to the staff of various units that provide 24-hour services, including residential training services and Justone 24-hour support services. With extra workloads, they need to maintain services as usual under the epidemic and the changes in service demand. For example: In the first two months of the outbreak, Justone service has recorded a 17% increase in the number of calls compared to past data. The halfway houses require more frequent disinfection and cleaning procedures and more personal care due to a longer stay-in time of the roommates, and such tasks are not possible to be performed at home.
In order to express our gratitude and care to all colleagues, especially the front-line staff who have been working tirelessly and sticking to their posts, we sent medical masks, anti-epidemic supplies, supermarket cash coupons, soup coupons, and vitamin C effervescent tablets, and fruits to all staff. All these measures are not only a sign of thankfulness, but also to help our colleagues and their family members to improve immunity in order to reduce the spread of the epidemic. The management team members and I were pleased to receive feedbacks from colleagues regarding their thankfulness to RFHK for the cares during the epidemic. Under the challenge of the epidemic, we are really moved and gratified that we are more able to work together and care for each other, as our morale is boosted up.
Although some outbreak points of the epidemic are close to some service units, thanks to the seamless cooperation of our staff, none of our colleagues and service users has been infected. And I truly hope that we can continue to work hard to maintain the current situation so that all stakeholders could stay healthy.
Recovering Citizenship – A new service concept and methodology
In 2019, we adopted "Recovering Citizenship" as a new direction for service development. In fact, in previous years, we have adopted recovery model as our service framework, which involves concepts of empowerment, personal responsibility, and strengths. Therefore, although the six elements of Rights, Responsibilities, Roles, Resources, Relationships, and a Sense of belonging are added when using the concept of a recovering citizenship, it is not a completely new knowledge to our colleagues.
In order to strengthen staff training, in January 2020, we sent a six-person study group to Yale University in the United States for a visit to the Recovery and Community Health Program. Although the study group returned to Hong Kong at the end of January when the coronaviral outbreak occurred and all the follow-up works were suspended, the work of the group did not pause. During the time, they designed materials for concept explanation to the colleagues, localized the collected group activity manuals and data, and planned to run a pilot group in Hong Kong. From June to August, the team conducted trainings with various units and held an online-launch event on September 17. Since then, the promotion of recovering citizenship has been integrated into systematic development. Foreseeing in the coming year, the concepts and methods of recovering citizenship will be integrated into the services of various units for further implementation. Based on the initial trial experience, some research findings and service results will be summarized to be reported and shared to the field at the Richmond Fellowship Asia Pacific Conference next year.
Extending resources for service development
Since there are various challenges in the 2019-20, the needs of society are also more distinct. For example, many citizens suffer from emotional distress or post-traumatic syndrome. However, despite the high demand for social services, the overall economic downturn has made us more difficult to secure resources to continue existing projects or to develop new services.
2020 coincides with the expiry of the funding period of the Justone 24-hour support service project. Our service quality has always been affirmed and praised by Chow Tai Fook Charity Foundation, the funding organization. This year, we have also received the consent of the Lee Hysan Foundation to jointly fund the operation of the project in 2021-22 with the Chow Tai Fook Charity Foundation and the Kerry Foundation. Apart from the existing telephone hotline service, an artificial intelligence aided online services will also be added to the project. And after all, we anticipate formally applying to the government for funding the Justone service upon expiration of this project period.
The "Mission Circle" of the Richmond Fellowship Community Network, after a year of application, was finally confirmed by the Freemason to support implementing a three-year self-help organization development plan.
The Save the Children Fund sponsored our ALOHA service from August 2020 to provide play-oriented activities, treatment groups and case services for children and parents who are facing mild to moderate stress for a period of 14 months.
We have also received funding for the "Finding the Root of Life "Garden" project" from The Board of Management of The Chinese Permanent Cemeteries in November 2020. This one-year project enhances the setup of a fish-vegetable symbiosis system at Tsui Wah House, and organizes related horticultural treatment groups and exhibition activities.
In addition, the Arts Development Fund for Persons with Disabilities also funded our "Stage for you" music therapy activity to allow service users to demonstrate their strengths and potential.
For the smooth development and implementation of the above services, I would like to express my heartfelt thanks to the generous sponsorship from various funding organizations and the joint planning of colleagues at various units.
Future prospect
Although we have overcome different challenges in the past year, the current epidemic is not yet through, the vaccine has not yet been released, and the socio-economic situation is still adverse. For sure, the demand for services in the future will still be strong, and we could expect more challenges in the future. I hereby would like to thank the Executive Committee, all subcommittees, advisory committees, family members, service users, all members of volunteer organizations, and all our colleagues for their every effort in the past. I hope we continue to work together, stand firm to our posts, and perform our mission of serving the society!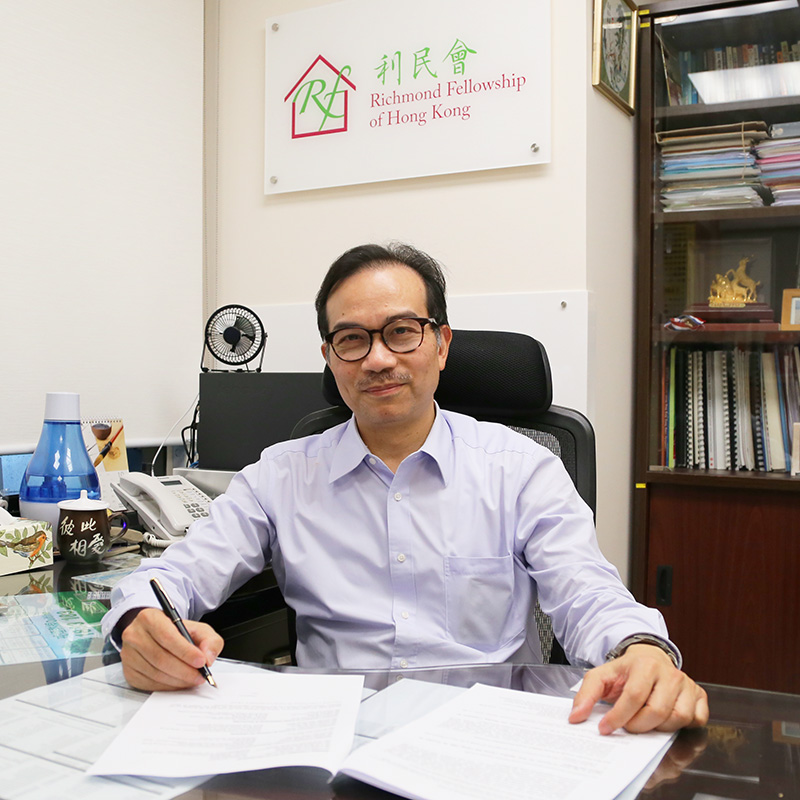 Dr. FUNG Cheung Tim