"Great crises produce great men, and great deeds of courage," – J.F. Kennedy, the late ex-US President
Looking back to the last year for the global outbreak of COVID-19, and during the severe epidemic in Hong Kong, we needed to maintain the operation of our services, and at the same time, we had to take care of the physical and mental well-being of the service users as well as our staff. And for the purposes, different contingency measures had been implemented to overcome the difficulties and to ensure the development of the Fellowship.
Working together to fight the epidemic
Coping with the latest community situation and risk factors of the epidemic, and considering the guidelines of preventing infection, many crisis emergency mechanism had been activated and we repeatedly finetuned our policies and working arrangement of service operations and human resources, including: provision of epidemic prevention facilities, discussion with front-line staff on epidemic prevention declaration mechanisms, limited the number of attendees of daytime services, arrangement on disinfection schedules, placement of dividers on dining area, and conduction of infection drills in our residential houses. During this period, we also adhered to the principle of maintaining public health and executed the policies according to laws and regulations, such as arrangement of regular Covid-19 nucleic acid tests for colleagues in residential services and reduction of the number of people participating in joint activities in accordance with the law. In order to provide precise frontline services, our colleagues knew that maintaining our own health during the epidemic is the prerequisite. Therefore, they took the initiative on epidemic prevention, and had been vaccinated against the new coronavirus when appropriate.
Taking care of emotional needs of our staff
As an agency engaged in mental health services, we concerned about the mental health of our staff as well. In times of, for example, the locations of service units were close to the outbreaks in a public housing estate or a shopping center, or the living places of our staff were near to people who were COVID-19-diagnosed and being quarantined, we understood that our staff might worry about their own safety for the nearby epidemic situations. Despite the pandemic challenges, it is admirable that our staff still stuck to their position. In order to make our staff feel safer in the working environment, we adopted various measures of which include: the increase of the provision of epidemic prevention facilities, work from home arrangement, flexible lunch hours, provision of emotional support, arrangement to staff in need to have COVID-19 testing and home quarantine, and additional allowances to the staff of our residential services, etc. We also launched a daily 15-minute-beak scheme to encourage our staff to take an office break for some refreshments or for some relaxing activities during the busy day. Reviewing the scheme, we are happy to see that our staff welcomed the scheme with active participation and became more united.
New service development in crisis
During the epidemic, citizens were significantly under pressure in their daily livings and the overall mental health condition was also affected. Due to the suspension of physical activities, our staff rapidly established online supports for individuals and groups, and mental health messages had been sent to service users and their families through social media. We are happy to see that some service users who were not familiar with online media showed great improvement on participating different online activities after receiving smartphones or tablets and attending trainings by our staff. When the epidemic alleviated, our service users were already familiar with online operations so as to increase their choices of receiving services, either physical or online. Now it is not a must for them to go to service centers to have face-to-face interviews. Therefore, online support was popularized and regarded as an effective platform for delivering services. The epidemic blocked interpersonal communication, but it created a new normal through online services.
Although the regular services have been affected by the epidemic, the enthusiasm on seeking new changes and promoting innovation to our staff were not subsided. This year, Justone 24-Hour Community Mental Health Support Project received new fundings, and also started to use artificial intelligence to triage people with different service needs in the form of chat robots. Tsui Wah House made good use of the limited space and used the concept of horticultural therapy to allow service users to participate in the establishment of aquaponics system enhancing their meaning of life. By using play therapy, ALOHA promoted parent-child mental health education and arranged training programs to promote members' development in expressive arts. And led by peer leaders and their caregivers, Richmond Fellowship Community Network received funding to implement a series of activities and held a number of online mental health education seminars. After returning from Yale University, our staff continued to implement localization work and organized a number of peer-leader trainings for Recovering Citizenship. The first two pilot groups for recovering citizenship to serve users had been completed. And two pilot groups are currently in the second phase for further effectiveness evaluation. InnoPower@JC: Fellowship for Teachers and Social Workers selected our project, Daddy Hour, as one of their innovative projects. And apart from funding, our staff will also receive relative training. We also made use of two-episode program "If-you-feel-alone" broadcast in ViuTV to address depression in a relax ambience, daily-oriented approach to increase the awareness on public mental health.
Training talents and responding to needs
In the journey of continuous improvement and innovation, our colleagues who kept sticking to their posts with never give up mindset, are all unsung heroes to the great achievements. Salute to these colleagues who have worked hard together!
As our usual practice, we had provided numerous trainings to meet the development needs of our staff. Each staff not only could be subsidized to participate in self-initiated staff development scheme, but also they might join 16 training programs organized by our agency. 420 staff joined the programs including stress management and meditation exercises. During the training, they could take care of their physical, mental, and spiritual needs. At the same time, we also arranged coaching support for 9 managerial staff to encourage them to lead the team better; improve their sensitivity of handling daily tasks and solving difficulties; and also stimulate them to have more reflection and learn to respond to their individual feelings to encourage them to take care of their own psychological needs indeed. To further strengthening teamwork, we promoted the appreciation culture program last year to encourage staff to appreciate and support each other during work and daily lifes, so as to increase their sense of belonging towards the agency.
Public mental health is the primary goal
Despite the infection rate during the epidemic is gradually decreasing, it is foreseeable that the society would face different new challenges during recovery.
Facing future social needs, we will continue to uphold the role of companion in the public, enhance mental health public education, and start from a forward-looking perspective to achieve comprehensive prevention, early identification and early intervention. Nowadays, we delivered mental health public education activities to our service beneficiaries through new media, including Facebook and the online platform of Justone. Meanwhile, we collaborated and exchanged ideas with workers in the field to co-create mental well-being in the public. I look forward to continuing to accompany with staff, family members and service users to be at the forefront of mental health.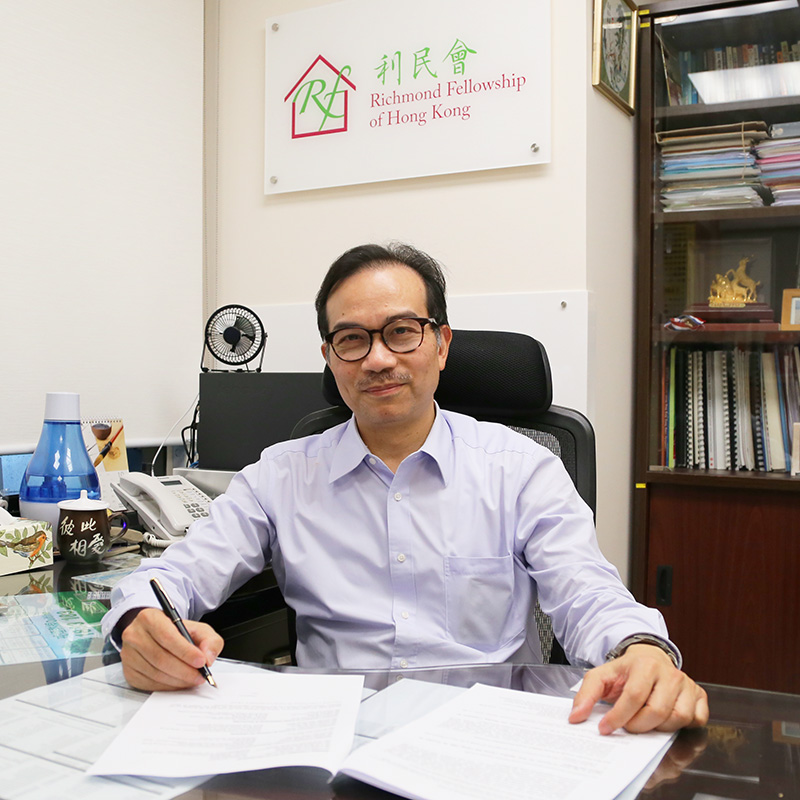 Dr. FUNG Cheung Tim