Whatever you did for one of the least of these brothers and sisters of mine, you did for me. (Bible Matthew 25:40)
In the year 2021-2022, I have witnessed as Director of Richmond Fellowship of Hong Kong (RFHK) the organization's continual development of services, despite the incessant challenges in the third year of the COVID-19 pandemic.
During this period, our colleagues have appropriately addressed community needs in mental health practice and promotion, providing services to 65,427 persons in recovery, family caregivers and community members. Apart from continually providing services subvented by Social Welfare Department while assuring the achievement of service and operational standards, in this year our staff team has additionally developed and supported various innovative services, and have attained excellent outcomes, with which I feel gratified.
Collective resilience in face of the pandemic
In early 2022 Hong Kong continued to be under the havoc of pandemic. At the peak of the fifth wave of infection, all RFHK's 5 hostels were assigned to be designated premises for in-situ isolation. Though our colleagues were faced with severe work and psychological stress, they persisted in performing their duties and continued in rosters to ensure physical, psychological and spiritual health of the residents, assuring infection prevention and physical recovery. Unavoidably, some of the staff members were infected at the same time. But then, colleagues from day services came to help with the isolated residential service units, demonstrating mutual support under the pandemic. I also feel thankful to our service users, especially those 200 residents living in our five hostels, for their endurance when living in an environment with infection, while joining hands with the staff in infection control, facing various unprecedented challenges of the pandemic.
Care Giving Action
At the hardest time of the pandemic, advisors of the Executive Committee, Sub-committees and Advisory Committees had accorded full support and encouragement to the management and the staff team in their persistence and continual care for service users, such as application for grants to purchase tablet PC and mobile phones for distribution to those in need, providing online individual or group support to compensate for the limited face-to-face activities, using innovative and effective approaches to continue providing appropriate services for users during the pandemic.
The spread of the fifth wave of COVID-19 infection was extremely rapid. Initially, the daily number of infection amounted to over 60,000, some service users who were infected or close associates of infected persons had to be isolated at home. As the spread of infections was too rapid, those lacking contacts with relatives or neighbours needed support of resources, such as food, medication, infection preventive utensils and rapid antigen tests (RAT), etc. In view of this, our colleagues actively addressed the service users' needs by instantly organizing a 'Care Giving Action', on one hand providing emotional support, and on the other hand assessing their actual need to provide material assistance accordingly.
The Care Giving Action started in late March 2022. Within just one month, the staff from various service units (viz. Integrated Vocational Rehabilitation Service Centre, ALOHA (WTS), ALOHA (Eastern), Richmond Community Network and JUSTONE) joined hands to deliver over 950 sets of Care Giving Kits (including 6,500 sets of RAT and 10,000 surgical masks). In this action, the service units reached over 1,300 service users through phone calls or mobile apps contacts. At the same time, JUSTONE 24-Hour Community Mental Health Support Project also made around 700 calls and received 200 help-seeking enquiries. The Care Giving Action was in time to support needy service users. Though our colleagues were aware of the risk to visit infected service users in the community, yet they dressed themselves with personal protective gear and sent to those service users' residences with cans, frozen food, vegetables, fruits, etc. Some colleagues reflected being motivated by the service users' thankful smile at the visits. I was deeply moved by the colleagues' devotion to work.
Enhanced human resource management
RFHK treasures human resource management and staff training. As staff is considered the most valuable resource, colleagues' professional knowledge and capability are to be strengthened, in order to meet the ever-changing social needs. RFHK had gradually expanded its multi-disciplinary staff team from 180 to 250 over the last 10 years, providing more comprehensive and diversified mental health services to community members.
In spite of the recurring pandemic, in last year We have provided more than 400 staff sessions in over 3,000 hours of staff training via online or vis-à-vis mode. The Self-initiated Staff Development Sponsorship Scheme provides a sponsorship of $2,500 per year for each full-time staff member supporting them to choose courses relevant to their work. Last year, 155 staff members participated in training with the total subsidy amounting to $190,000.
In the view to protect the health of staff under the pandemic, RFHK has at different stages executed various special work arrangement, such as fixed subgroups on duty, work-from-home, flexible work hours and flexible lunch hours, so as to minimize the risks of cross-infection. The fifth wave of pandemic was comparatively more infectious than before. At that time staff members of many service units were either infected or confirmed to be close associates of infected persons, resulting in absence from work due to isolation or quarantine requirements. This was of special concern at residential service units as public hospitals were overloaded with patients, hence requiring infected residents to stay at their original residential setting for isolation and/or quarantine, leading to very tight manpower requirement and heavy workload at hostels. RFHK, after carefully considering the scenario, granted special allowances to all colleagues, and helped staff members in need to apply for a hotel stay allowance from HKCSS. In additional to a special allowance for residential service staff from Social Welfare Department, the Executive Committee addressed the hardship of our staff under the pandemic, granting every full-time staff member an "Special Anti-pandemic Allowance" so as to show our appreciation on staffs devotion to maintain smooth operation assuring the wellbeing of service users.
Promoting the Recovering Citizenship (RC) concept
The World Health Organization's (WHO) theme of World Mental Health Report 2022 is "Transforming Mental Health for All" reminds us to achieve the goal that every human being has the same right and opportunity to enjoy mental wellness, we must join hands to take action. RFHK's integration of RC concepts into mental health service strategies goes in line with the goal.
Since 2019 RFHK has collaborated with Yale University in implementing Recovery Citizenship concept in Hong Kong at individual, programme and community levels. We had conducted special group trainings and with outcome evaluations over three years, and have trained totally 24 RC group graduates and 6 leaders. Currently, we are conducting the 5th RC group which also recruits from other mental health service organizations, apart from our service users. We hope these leaders and graduates will demonstrate RC concepts at various local spots, while continually assist in implementation of RC group and peer support work.
RFHK organized an online Asia Pacific International Mental Wellness Webinar on 18 May 2022, with over 280 participants from local and overseas. During the Webinar, RFHK's Recovering Citizenships Team openly shared for the first time their experience and insights in implementing the RC approach in Hong Kong. We are now evaluating the effectiveness of implementation of RC concepts, and expect to announce the findings with practitioners in the field and the general public through a conference on project outcome.
Let us respond together to the call of the WHO to support through implementation of RC concepts, so enabling people in recovery to live healthily in community to nurture their sense of belonging in the community.
Innovative Service Development
When facing various social uncertainties, citizens' mental health problems become common and complex. In view of this, RFHK adopted a service approach with low participation threshold and high flexibility, which catered needs of different groups, and also suited contemporary living style. We wish to educate the public about the knowledge and ways to stay healthy physically and mentally through the newly developed services, and also the precautions on mental illness and increasing public awareness to seek early assistance in need. Most importantly, we hope that Hong Kong will become a mental-health-friendly community by clearing off the social misunderstanding to mental illness and Recovering Citizenship.
In the past year, the new projects launched included 1) Public Education on Emotional Illness: 'VIU TV Two-episode Depression Awareness Campaign', 2) Parent-Children Education and Support on Emotions: 'Mental Health Smarties Project', '"Happy Kids" Children Mental Well-being Program', and 'Project eConnect',
3) Recovering Citizenship Development: 'Stage for you' and 'Life Education Programme'. These projects have received positive responses from the general public, identified people in need and provided mental health support directly and effectively to people in recovery and other stakeholders in the community.
Fore view – towards RFHK's 40th Anniversary
In the last few years, although the social environment and coronavirus outbreak in Hong Kong have brought many challenges to the general public, and the need for mental health support has been unprecedently great, RFHK staff who have united in their altruistic stance, earnestly performing their duties in service, certainly deserve appreciation. I would particularly like to express my most sincere gratitude to Executive Committee members, sub-committee members and advisory committee members for their professional advices and unfailing support.
Since 1984, RFHK's footprints of services have been all over Hong Kong. The 2023-2024 year will greet RFHK's 40th Anniversary. Our 40th Anniversary celebration activities will start from early 2023 to include special activities at service units, community education and promotional programmes, staff overseas exchange programme, 40th Anniversary Ceremony cum Asia-Pacific Conference, etc. Through this opportunity, we shall review the milestones that RFHK has co-created with the public, recapture sweet memories and plan for the future with stakeholders in service and the overseas associates. The coming year will be the opportune moment for us to rethink RFHK's rehabilitation work in Hong Kong over 40 years, to meet with the future, and to develop more innovative services. Forging ahead, RFHK is determined to strenuously support community mental health promotion and provide quality services to those in need of mental health rehabilitation services, aiming to promote mental health for all, and continuing to work on the forefront of mental health!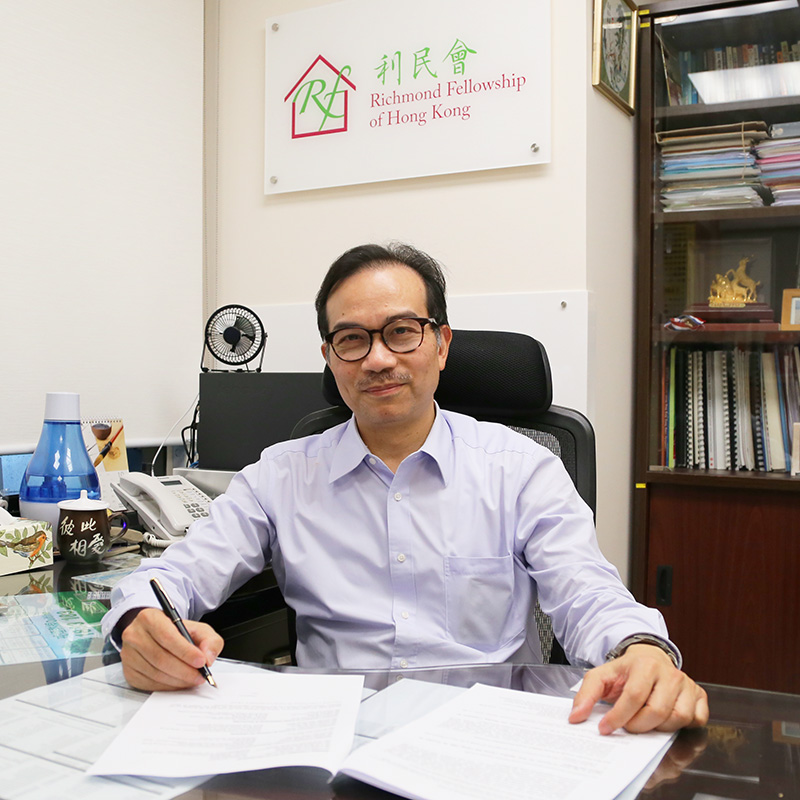 Dr. FUNG Cheung Tim